The OnePlus Buds Pro 2 look nice and come with plenty of features, including our introduction to Google's head tracking spatial audio solution, but when it comes to sound, whether you should buy them isn't straightforward. OnePlus' new flagship buds feature an excellent fit, good connectivity, a long-lasting battery life, and two drivers per bud. But seldom do I find myself using a pair of earbuds and noticing big differences in sound quality depending on the source. The spatial audio and ANC also aren't quite up to snuff compared to the competition, which doesn't bode well for the buds' new, higher price point.
OnePlus Buds Pro 2 feature a gorgeous design that fits well in my ears
The OnePlus Buds Pro 2 carry forward the same design as the first-gen product, with almost unnoticeably tiny adjustments to the size. They are lightweight, and because of the flat case design, fit well alongside my wallet in my pocket. You also get the same IP55 water resistance rating for the earbuds and IPX4 rating for the case, making them your ideal gym partner.
I have no hesitation in saying that the OnePlus Buds Pro 2 are the most comfortable pair of stem-design earbuds I've worn in the past year. That list includes the original AirPods Pro, Huawei FreeBuds Pro 2, Oppo Enco X2 and more. The OnePlus flagship earbuds are the best suited to my ears. In my 14 days of usage, the earbuds haven't fallen out even once. I'm not a gym person, but during my workouts at home and my evening strolls, the Buds Pro 2 have stayed within my ears even as I jogged.
G/O Media may get a commission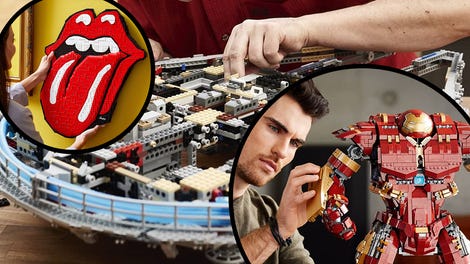 12 Giant Lego Sets for the Giant Child Within You
Lego sets for anyone of all ages to enjoy
Anyone who says Lego is for kids has never seen the price tag on these kits. And even if that were true, what are adults if not really big kids? The truth of the matter is Lego is for everyone.
If you find yourself struggling for a fit, OnePlus offers three differently sized alternative silicone ear tips in the box with the buds. I didn't have to change them myself, because the out-of-the-box fit was the best for me. I'd have preferred a set of foam eartips for more comfort, but that's me being picky, as foam eartips aren't the standard (yet).
OnePlus Buds Pro 2 connectivity and controls
The OnePlus Buds Pro 2 can connect to both iOS and Android devices using Bluetooth 5.3. If you are using a OnePlus phone running OxygenOS 12 or above, the earbuds controls can be found within the operating system. Everyone else can download Oppo's HeyMelody app to customize controls and the equalizer, though Android users can alternately use the OnePlus Buds app instead. Notably, some features, like spatial audio, aren't available on iOS. That's because these are actually the first earbuds to feature Google's own head tracking spatial audio solution. But as you'll find out later, it's not something that you'll miss.
I used the OnePlus Buds Pro 2 with the OnePlus 11 and iPhone 14 Pro Max. I'm extremely grateful for the presence of dual connectivity on these buds, which allowed me to connect them to both my devices simultaneously and switch between them with no hiccups. As soon as I pressed the play button on either of the phones, the Buds Pro 2 connected seamlessly and started playing within a second. However, the feature isn't activated by default. You have to go to the settings to enable it, which can be done on both iOS and Android.
Connecting the Buds Pro 2 to the OnePlus 11 was a simple task, as Google Fast Pair meant I received a pop up on my phone as soon as I opened the case. On the other hand, connecting to the iPhone required me to press the Bluetooth pairing button inside the case, which was admittedly still an easy process.
Like my Huawei FreeBuds Pro 2 and Oppo Enco X2 earbuds, the OnePlus Buds Pro 2 feature squeeze controls. This means you need to press or hold the stem to control the music playback and ANC. I had no problems locating the controls. Nine out of ten times, I was able to squeeze the stem and the earbuds reacted. That one time out of ten it didn't work was because of a loose fit.
Unlike some other newer earbuds, though, the OnePlus Buds Pro 2 don't support swipe gestures on the stem, so you can't control the volume from the earbuds. This is a big miss for me, personally. I like adjusting volume from my earbuds, as it allows me to not touch my phone for anything. In case you are wondering, the app doesn't let you assign volume controls to any of the squeeze gestures, either. It comes as a surprise to me, because the Oppo Enco X2, made by OnePlus' parent company, supports the swipe gesture for volume control alongside the squeeze controls.
HeyMelody is a good companion app
If you are using the OnePlus Buds Pro 2 with a non-OxygenOS 12 (or above) device, you can download the HeyMelody app to configure controls and make use of various other features. This time around, you also get equalizer controls, which were missing from the original Buds Pro.
Within the app, you get access to more features like a fit test, Game Mode and Golden Sound mode. I didn't find that the fit test helped me in any way, but that could also be because I got lucky and didn't have to fiddle with the ear tips to get the comfort right.
If you're a gamer, you'll probably be better off with gaming-first buds like the Anker Soundcore VR P10, but the Game Mode supposedly drops latency down to lows of 54ms to provide a better gaming experience.
The "Golden Sound" mode is designed to tune the sound based on your hearing and inner ear structure (more on this later).
OnePlus is also working on a feature that will inform you about your posture using the earbuds. But it is still a work in progress, and the company hasn't given an availability date for it. All it said is that the feature will be rolled out "this year."
OnePlus Buds Pro 2 Sound Different Based On Your Device
The OnePlus Buds Pro 2 feature an 11mm and 6mm driver, co-created with Dynaudio, in each bud. These support SBC, AAC, and the LHDC 4.0 lossless codecs. I paired the buds with the OnePlus 11 and the iPhone 14 Pro Max for my testing and used Spotify and Apple Music to listen to songs. I also tested Netflix, Amazon Prime, and YouTube for video media consumption. The resulting sound experience was a bit hit-and-miss.
Listening to music on the OnePlus Buds Pro 2 while connected to the iPhone, I noticed they deliver a more balanced sound than when I used the OnePlus 11. My guess is that the earbuds are likely confined to the SBC codec on iPhone. With that codec, you get a strong bass, clear vocals and sufficient highs with a wide soundstage.
I switched to Apple Music to check if I could notice a difference with lossless music–I couldn't. Yes, Apple Music can't transfer high bitrates via bluetooth, but if you listen to the same song on Spotify and Apple Music lossless, you'll get a much more livelier sound using the Oppo Enco X2. There was no such difference to be noticed in the OnePlus Buds Pro 2.
On the other hand, connecting the earbuds to the OnePlus 11 and listening to music via Spotify (on all maxed-out settings, same as on the iPhone), I noticed a V-shaped sound. That means it had high bass and treble responses but crushed the mids. I also downloaded a few high-res audio files to the OnePlus 11 but couldn't notice any difference between them and streaming through Spotify.
If you listen to acoustic music with an iPhone as the source, it will sound better than when listening to the same songs on the OnePlus 11. When connected to the latter, I noticed that the mids were a bit crushed when compared to the iPhone.
I turned on the Golden Sound mode feature to see if it made a difference to my listening experience. Personally, I didn't find it to be useful, as it artificially boosted the bass and treble to give me more V-shaped sound, which further crushed the mids. It could be useful in some bassy songs, but overall, I'm not a fan of this feature.
Overall, the vocals sounded better than on the Nothing Ear 1, but the Oppo Enco X2 still offer better sound in the same price range. The OnePlus Buds Pro 2 offer more bass than the AirPods Pro on the iPhone, but the vocals are less clear.
It's possible that I could resolve this issue by diving into developer settings to change the OnePlus' bluetooth codec, but out of the box, the OnePlus Buds Pro 2 sound best when not paired to their sister phone. Additionally, I didn't need to take such steps with other earbuds.
Coming to spatial audio, the OnePlus Buds Pro 2's Google-based solution offers two different settings, fixed and head tracking. I tested the feature on the OnePlus 11. On YouTube, you do notice the spatial audio effect, but it's not as effective as Apple's. It can also totally mute an earbud if you happen to move the phone in the other direction, which feels odd in my experience. Spatial audio in music, meanwhile, isn't something that's appreciated by all because of the way it alters the bass and tone of each song.
OnePlus Buds Pro 2 ANC isn't the best
The OnePlus Buds Pro 2 noise cancellation isn't anything to boast about. In my experience, it wasn't very effective. You can tell the difference between when the ANC is turned on as opposed to when it's off, but I've experienced better ANC on other earbuds in the same price range.
I wore the Buds Pro 2 on flights and on daily commutes via taxi or metro. They failed to block out the buzzing sound of the airplane or the ambient traffic noise in the cab, which is half the reason to get ANC earbuds. I found the transparency mode offered good performance, though. I could listen to the pilot speak clearly during take off, and had a constant traffic buzz around me while walking in the city.
The OnePlus Buds Pro 2 ANC is far less effective than the ANC on the AirPods Pro, Sony LinkBuds S, Oppo Enco X2 or the Galaxy Buds Pro. I'd pick any of those four if my priority was to go with a pair of earbuds that offer a good ANC experience. I also experienced listener fatigue after keeping the ANC on for more than 75 minutes straight–something that I haven't experienced on any of the four competitors mentioned here.
There is no Samsung or Sony-like feature that pauses music as soon as you speak to let you have a conversation with someone while the earbuds are on. The feature is mostly found in more expensive earbuds, but as a frequent Galaxy Buds 2 Pro user, I missed it on the OnePlus Buds Pro 2.
OnePlus Buds Pro 2 are long lasting
The OnePlus Buds Pro 2 use a 520mAh case battery, which OnePlus claims deliver a battery life of 25 hours with ANC on and 39 hours with it off. The earbuds' 60mAh battery supposedly lasts up to nine hours with ANC off. The case also offers a fast charge feature that is touted to provide three hours of listening time from a 10 minute charge.
In my experience, the OnePlus Buds Pro 2 feature an excellent battery life. There are times when I'm working through the night and other earbuds give up after about five hours of continuous usage, but I could use the OnePlus Buds Pro 2 with ANC on at around 60% volume for at least six hours on a single charge. There wasn't a single occasion where I wished I had a better battery life on these.
OnePlus Buds Pro 2 price and availability
The OnePlus Buds Pro will be available starting on February 16 for $179 in the US. You can already pre-order the device now in Arbor Green or Obsidian Black color options. You'll be able to purchase the earbuds from OnePlus's own store and through Amazon.
Not Worth $30 More
If your priority is to buy a pair of earbuds with a sleek design, long battery life, and comfortable fit, even if it only sounds average, the OnePlus Buds Pro 2 are the way to go. But if your priorities are above-average sound and ANC performance, you should look elsewhere. If you prefer V-shaped sound (high bass and treble response with okay vocals), you can go with the Buds Pro 2, but that's not everyone.
The $30 price increase over the original OnePlus Buds Pro doesn't translate to a better out-of-the-box experience. You can obviously now tune them to your preferences with the equalizer, but that's the most noticeable change. If you want good sound quality and a strong ANC experience along the lines of the original OnePlus Buds Pro price, you should look at the Sony LinkBuds S for $150. They aren't as long-lasting or comfortable as the OnePlus Buds Pro 2, at least for me, but they are strong performers. The excellent Sony WF-1000XM4 are also available below $200 now, and should be your go-to choice for the price if you can find them.