The ending of a Scream movie is always the best part. It's what you've been waiting for: the reveal of who's behind that now iconic mask and why they're targeting the teenagers of Woodsboro. Scream VI, however, bucks that trend. It has an excellent ending to be sure (don't worry, we won't even come close to spoiling it) but what really stands out is that the rest of the movie is almost as good, if not better. There are at least four set pieces in the film that rival the ending in terms of scares and surprises, resulting in a much more balanced movie than we're used to seeing from the franchise.
Scream VI comes from the same team who brought us last year's Scream V, which includes writers Guy Busick and Jamie Vanderbilt and directors Matt Bettinelli-Olpin and Tyler Gillett, so it has a lot of what made that film good going for it. Great new characters, smart dialogue, brutal kills, and most importantly a very, very strong understanding of what fans love about the franchise. Events pick up a year after the last movie with sisters Sam (Melissa Barrera) and Tara (Jenna Ortega) having moved to New York City along with siblings Mindy (Jasmin Savoy Brown) and Chad (Mason Gooding). They're joined by some new friends too, like Chad's roommate Ethan (Jack Champion), Mindy's girlfriend Anika (Devyn Nekoda), another roommate named Quinn (Liana Liberato), and Sam's crush Danny (Josh Segarra) among them. In pure Scream fashion, they all become suspects after the killings start. Killings that are a little too close to Sam and Tara for it to be a coincidence.
From the first scene of Scream VI you can tell it's going to be different. Yes, as usual, a famous actor is killed after they get a phone call from Ghostface before the title card. What's a Scream movie if it doesn't have that? But about a minute or two into it, something seems off. You just know this isn't going the way it should. Soon after, the movie justifies that choice. It then takes another twist or two and pretty soon you have no idea what the heck is going on. And that's just the opening.
That uncertainty continues throughout the movie because a) that's what Scream movies do, and b) this Scream movie is set during Halloween. So when Ghostface makes his/her/their return, Sam, Tara and the crew not only have to worry about who the killer is, they have to worry about where the killer is. Ghostface masks start popping up everywhere, adding fear and tension to crowded scenes, as well as quiet ones. Plus, all of this is heightened because this Scream, as expected, has a clever, relatable thematic center that makes it more modern than even its 2022 predecessor. Even though it's revealed very early on, we won't spoil it here, but where other Scream movies may have overdone their concepts about celebrity or social media or toxic fandom, this one really underplays that hook, using it to create more mystery as opposed to being preachy.
G/O Media may get a commission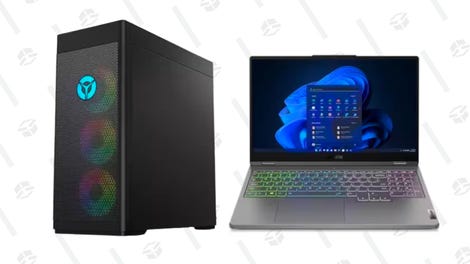 up to 75% off
Lenovo Annual Sale
Save on laptops, desktops, and more
If you're refreshing your living space, your wardrobe, and other areas of your life, it's time to go ahead and get some new tech, too. And what better time to get a new laptop or desktop computer than during the Lenovo Annual Sale? Right now through March 16, you can save a up to a whopping 75% off PCs and electronics at the retailer. We've selected some of our picks below.
Because, as we said, the bulk of the movie is about really awesome, exciting, and intense set pieces that utilize the franchise's brand-new New York City setting. So there's one on a subway car. There's one in a teeny tiny apartment. Another is in a huge, expensive townhouse, while yet another is at a trendy bar. All of these sequences unfold with a controlled chaos that keeps you on the edge of your seat, because from moment to moment you aren't quite sure how, or even if, the characters will survive. Somehow, the size and feel of New York City have made everyone equally expendable.
Along with the kids, there's a new police officer played by Dermot Mulroney, Courteney Cox is back as legacy character Gail Weathers, and there's also the return of Kirby, played by Hayden Panettiere. She's the movie-obsessed survivor from the fourth movie whose fate had previously only been hinted at. Now, 10 years later, Kirby is doing something else entirely. Something that's completely unrelated to movies. And there too is a good example of where Scream VI goes up against expectations. Where the first five films were very, very driven by movies and movie culture at every corner, Scream VI is not. Yes, there's a scene where Mindy breaks down the type of movie they're in, and sure the killer collects props from the in-universe Scream-equivalent franchise Stab, but those are just the dressing, not the main course.
Instead, the focus is how are these kids going to survive another Ghostface killer, who is the Ghostface killer, and is it any of them? That eventual reveal is solid—but by the time it happens, you almost don't care as much because Scream VI has given you so much to think about and consider in addition to the horror, action, and tension. In that way, Scream VI distinguishes itself from the rest of the franchise. It's a more complete movie, a (slightly) more subtle movie, and definitely a more surprising movie throughout instead of just at the end. When the ending of a Scream movie isn't the best part of a Scream movie, that's a refreshing, welcome change of pace and Scream VI delivers.
Scream VI is in theaters March 10.
---
Want more io9 news? Check out when to expect the latest Marvel, Star Wars, and Star Trek releases, what's next for the DC Universe on film and TV, and everything you need to know about the future of Doctor Who.