The Lexus LS, ever since its arrival on our US shores in 1989, has helped reshape what we expect out of a full-size luxury sedan. While the Lexus LS is placed on a pedestal as being one of the most reliable vehicles on the road, it has a methodical approach to bringing innovation and luxury features to the table.
After spending some more quality time with the latest LS 500 but in the F Sport trim, I've walked away in knowing that Lexus may take their time in making changes, but each update is meaningful and a proven move that fits the expected quality and longevity that we've known to get out of the brand. With that, the 2023 Lexus LS 500 receives a much-needed infotainment system update, and Apple CarPlay and Android Auto that can now connect wirelessly in addition to opting for just USB connectivity through added USB ports for the model year.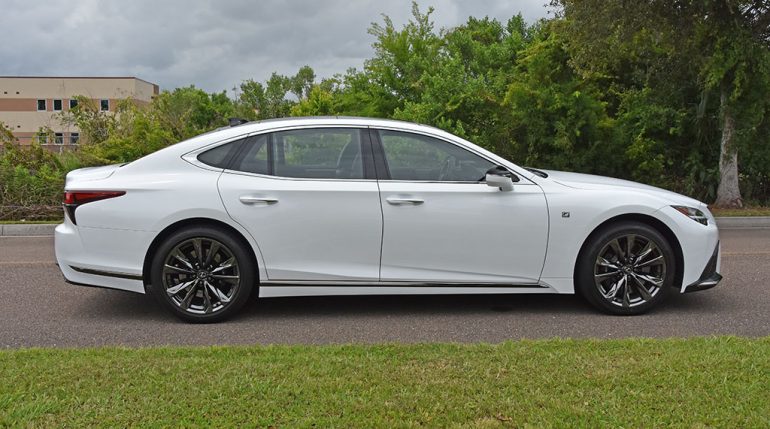 The fifth-generation Lexus LS embarks on a new path where since its redesign in 2018 it now offers a twin-turbo V6 engine mated to a 10-speed automatic transmission in place of the outgoing V8. The change is welcomed as you never miss the old V8 considering the new twin-turbo 3.4-liter V6 engine produces a healthy 416 horsepower and 442 lb-ft of torque to the rear wheels or to all four through an optional all-wheel-drive system found on my test vehicle.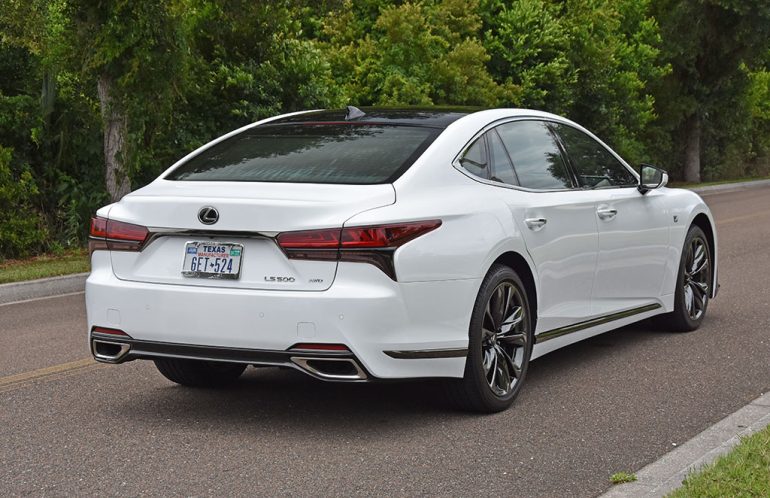 Power delivery is sewing machine smooth as you expect out of the Lexus LS, and there's a nice low-end grunt that gets the LS 500 moving with authority. The smoothness of the powertrain, even in the 10-speed automatic transmission's smart shifting logic, translates the LS' objective well. That objective is to be as smooth and quiet as possible but to not completely isolate you from the road as I think the F Sport trim of the LS 500 attempts to do. Still, you can cover ground quick as hitting 60 mph from a stop takes just 4.6 seconds. The only fault I find in the drivetrain is how it seldomly takes a while to downshift upon applying moderate to full throttle when you're already moving.
Fuel mileage is mostly consistent and you're able to easily match and sometimes beat the EPA estimates of 17 mpg city, 27 mpg highway, and 21 mpg combined.
The subtle changes of the LS 500 F Sport from the rest of the trim lineup are welcomed for lighthearted enthusiasts as the F Sport package adds sport-tuned adaptive suspension, high-performance brakes that feature 6-piston calipers up front, and 20-inch wheels. Apart from the slight 'performance' changes, the F Sport has a unique exterior trim where the front spindle grille is a darkened mesh style, there's aluminum interior trim, a synthetic suede headliner, sport heated and ventilated front seats with accented and perforated leather, heated rear outboard seats, and a unique digital gauge cluster reminiscent of other Lexus F Sport vehicles yet inspired by the Lexus LFA supercar from many years ago.
You can also opt for specific options for the rear-wheel-drive equipped LS 500 F Sport trim, including variable-ratio steering with active rear steering and active stabilizer bars that help minimize body lean during cornering. While my all-wheel-drive LS 500 F Sport test vehicle doesn't get these options, it feels mostly connected to the road only with some lofty motions of the body when in the default Normal drive mode or Comfort mode. For the most part, the LS 500 F Sport feels no different than any other LS 500 in its ride quality, except for when you place it in the Sport S+ mode or use the Custom mode to configure the dampers for their Sport setting. Here the dampers firm up just enough to make the LS 500 F Sport feel more adaptable to handling spirited driving. Otherwise, the suspension tends to be a bit too soft for anything that has the word "Sport" in its trim name.
The big, welcomed change for the 2023 model year LS 500 is the updated infotainment system, which takes the same simplistic 12.3-inch touchscreen system found in other new Lexus and Toyota vehicles and adapts the dashboard layout to bring the screen closer to the driver and front passenger. The system, as I have said before, is pretty straightforward and is heavily based on creating a user profile and use of its natural language voice assistant to control a myriad of functions. Moving things around the unique gear shifter, which can often be a challenge to get into gear if you don't have your foot firmly planted on the brake pedal, you'll find the seat heating and ventilation controls along with the steering wheel heater buttons where the old awkward trackpad used to be.
There are many other special aspects that pay attribute to Lexus' impeccable fit and finish, such as the Haku metal foil trim and unique soft hand-pleated fabric on the door trim, and soft-touch surfaces throughout. Of course, there's plentiful space in the cabin, and the seats, while not as comfortable as other LS 500 trims, have a respected sporty feel with the extra bolstering up front.
There are all the expected safety features integrated (lane departure warning/keeping assist, adaptive cruise control, blind-spot warning, pedestrian and cyclist detection, front collision warning/emergency braking, automatic LED highbeam headlights), but my test vehicle fails to have a 360-degree camera system as it is not even offered as an option for the LS 500 AWD F Sport trim. Instead, you're left with a single wide-angle backup camera.
The Lexus LS 500 remains to be quite a competitive full-size luxury sedan with a price that starts at just $78,035, which undercuts all the German competition. My nicely equipped LS 500 AWD F Sport test vehicle comes in at $89,045, which includes a $1,150 delivery/handling fee, and the options of a color head-up display ($1,220), 23-speaker Mark Levinson Surround Sound system ($1,940), a panorama glass roof and power sunroof ($1,000), and the premium Eminent White Pearl paint ($500).
FOLLOW US TODAY: