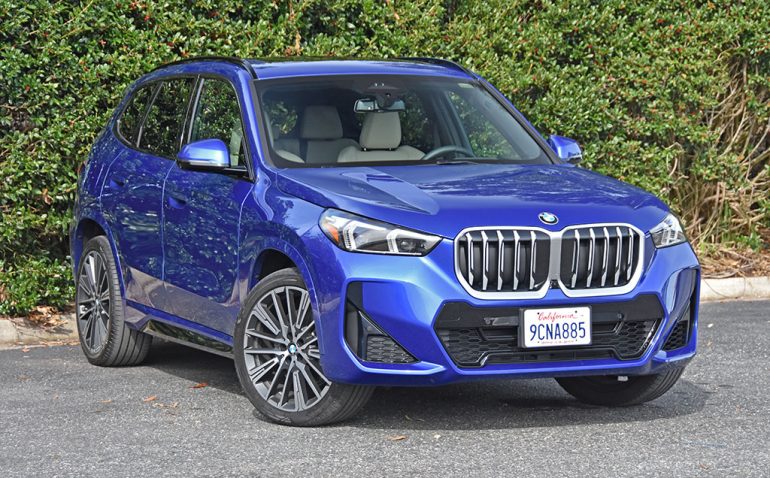 BMW has somehow managed for their SUVs to become blended in a way that most cannot recognize the difference in each series, which can be a good or bad thing, depending on how you look at it. In terms of the BMW X1 compact crossover, it blends into the lost-in-translation mix of its siblings is a good thing considering the X1 is at the starting line for BMW crossover/SUVs. For the 2023 model year, the BMW X1 gets a full redesign, slightly gaining its own unique character, which is also a good thing after spending a week with the tech-packed and somewhat head-turning smallish crossover.
Performance and Driving Character
Being one of the smallest crossovers from the brand, the BMW X1 is based on a front-wheel-drive architecture but touts an xDrive all-wheel-drive system from its transverse-mounted engine, which is the only way the new X1 comes. Powering the new X1 is a 2.0-liter turbocharged 4-cylinder engine with 241 horsepower and 295 lb-ft of torque. The power is sent through a 7-speed dual-clutch automatic transmission that felt very well sorted and snappy not only for its shifts but in slipping of its automated clutch, where I believe it's among the best dual-clutch units for a vehicle of this class.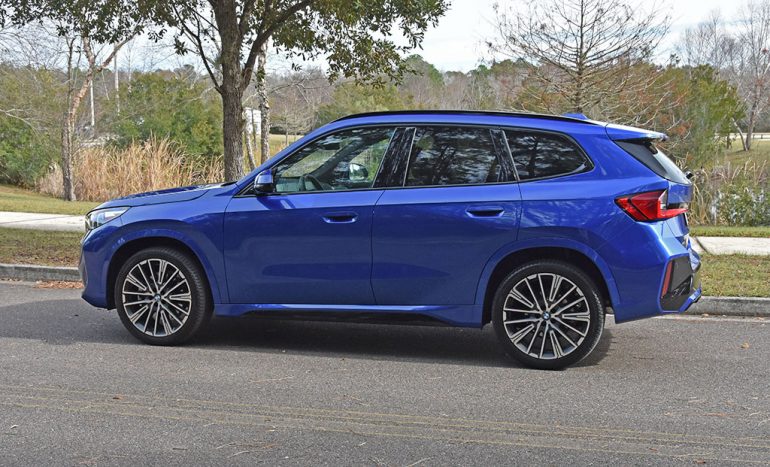 The drivetrain, in its collective, was smooth in delivering power without any unwanted drama. In a nutshell, the drivetrain felt well connected, and the steering gave back some wanted communication, which feels like a return to BMW's roots. However, I would not go as far as to say the new X1 was like an older 2000's 3 Series Coupe with an M Sport package. It was more of its own flavor, one that was easy to digest in that it handles well, felt more connected to the road than any other compact crossover I've driven, and had respectable power throughout the RPM range.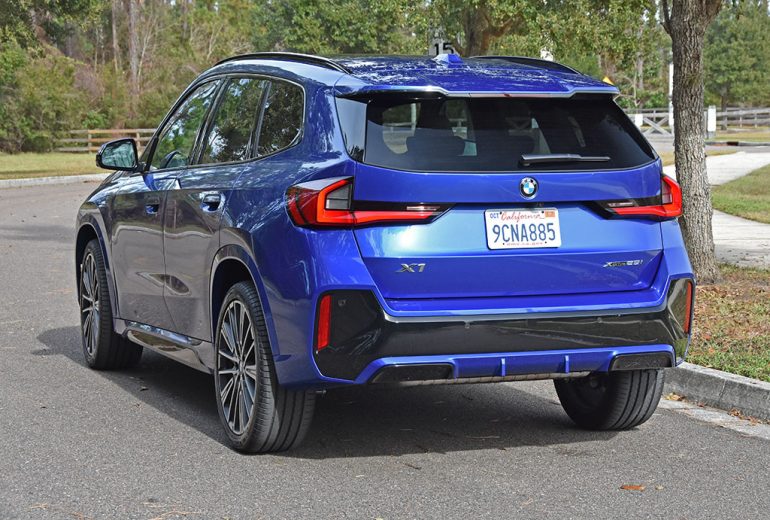 Having the M Sport Package on my test vehicle, things seemed to be a bit heightened in its sportiness where the adaptive M suspension felt a bit too firm at times, which may have been exacerbated from the large 20-inch wheels optioned on my Portimao Blue Metallic tester. Turn-in is excellent with the relatively quick ratio steering rack thanks to the M Sport Package, and the braking feel is spot on, just as the power delivery from just about any legal speed. Zero to 60 mph takes place in just 5.7 seconds, besting BMW's estimates (6.2 seconds) in our tests using the clever "boost" feature by pulling and holding the left downshift steering wheel shift paddle adding 10 seconds of what appears to be an overboost function. Touted as a Sports Activity Vehicle (SAV) by BMW, the X1 packs a decent punch in a small package laced with gobs of technology.
Fuel Economy
The BMW X1 being a front-wheel-drive-based vehicle but with all-wheel-drive, it gets decent fuel economy. I could not get far past the EPA estimates of 25 mpg city, 34 mpg highway, and 28 mpg combined, but I respected the vehicle constantly returning 27.8 mpg in somewhat aggressive mixed city and highway driving.
Interior and Technology
As an SAV, the BMW X1 rides on the premise of being a standout in a crowded crossover segment. The good news is that the redesign of the X1 does stand out for the right reasons, except when you become overwhelmed with the amount of tech is found in such a small package. Inside, the BMW X1 has a reworked interior space that's cleaned up a bit where it is void of the traditional controls and buttons of the typical iDrive system. Instead, the new X1 focuses more on its screens, a 10.25-inch digital gauge cluster and a 10.7-inch touchscreen. The infotainment unit here does away with iDrive controls but retains the functionality of the latest system found in new BMWs but mostly interacted through the touchscreen and responsive voice commands. Here, the voice commands are more user-friendly and can be voiced in a more natural tone, and the system surprisingly recognizes most common inputs without fault on the first try by simply saying, "Hey BMW."
BMW continues to nicely integrate wireless Apple CarPlay and Android Auto. There's also a neat LED-backlit wireless phone charger pad with a movable holding clap that keeps your phone in place.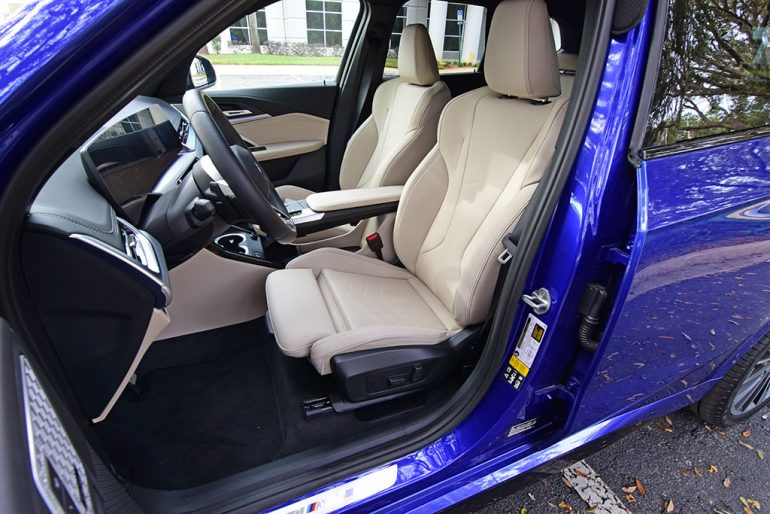 Where the frustration starts in using the heavy dose of tech in the new X1 is limiting physical buttons or knobs, which part of that lack is not having the iDrive controller and its set of buttons. Most of the interaction, outside of the voice response, is done through the touchscreen, which can add an extra couple of steps, such as using the climate controls that are found through the touchscreen. While the climate controls have dedicated touchscreen areas for the temperature, you must bring up the climate menu to access the rest of the functions.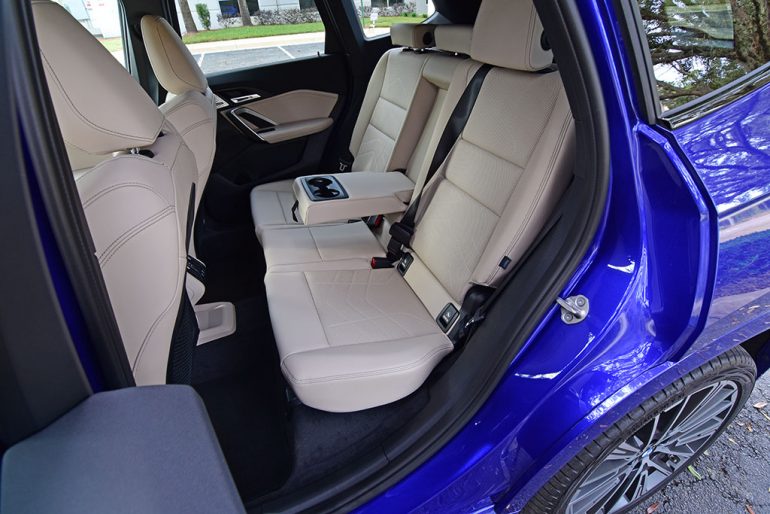 Other controls and interactions are part of a decent learning curve in the new BMW X1, from the audio controls to changing the drive modes. Most of these features have deep menu sets with a plethora of options and configurations. There is a clever way of interacting with the decent-sounding Harmon Kardon audio system through the steering wheel buttons and scrolling knob, which can bring up station or track seeking through the bright and large color head-up display.
The seating areas are surprisingly comfy, even for tall or larger individuals. For a compact crossover, the X1 utilizes its spacing in a clever way with plenty of adjustability in its front supportive and sporty heated seats. The rear seating is even somewhat accommodating for those who may be 6 feet tall. There's a decent amount of soft-touch surfaces and a premium theme throughout the X1, fitting what you would expect in a luxury vehicle. There's even a nice play on the use of trim materials, such as the metal speaker grilles and aluminum mesh trim. The X1 feels just like its bigger siblings!
Cargo space access by the hands-free power liftgate is decent for a small vehicle, and there are plentiful storage compartments throughout, along with a unique front-center storage are, which is under floating center console that houses the small flip-switch-like gear shifter. One thing to note about the gear shifter is that there isn't a traditional Park button or a method of putting the vehicle into Park other than depressing the parking brake button, which then enacts "Park." Otherwise, you can just simply turn the vehicle off, and it will automatically go into Park with the option of automatically setting the Park brake through a deeply embedded touchscreen menu setting.
Safety
There's a decent safety blanket that comes standard in the new BMW X1, except for having the typical lane departure/lane keep functions and adaptive cruise control. My test vehicle was still equipped with front collision warning and emergency braking, blind spot monitors, rear cross-path detection, and a clever 360-degree camera system. Another aspect that I consider to be a safety measure in some ways is the use of augmented reality, where using the built-in navigation system brings up an augmented reality display in the center screen to show where your upcoming exit is overlayed with animated arrows, in addition to arrows confirming you being in the proper lane for an upcoming turn or exit. BMW nicely integrated the navigation to help avoid mishaps of missing a turn/exit through multiple methods displayed on the center screen, head-up display, and in the digital gauge cluster if it is configured to display navigation information.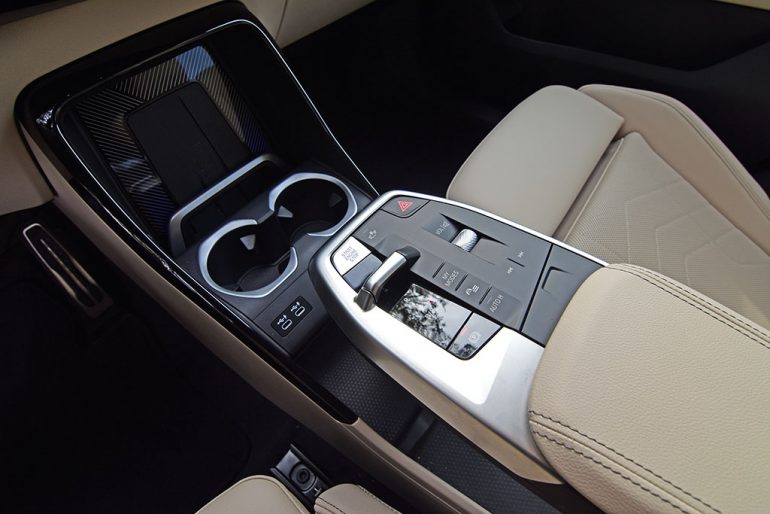 Price
The BMW X1 isn't shy about charging for all that it has to offer, which includes all its packed-in tech and luxury features starting at $38,600 before any options or fees. My nicely equipped test vehicle with the M Sport Package, Premium Package, Shadowline Package, heated front seats/steering wheel, larger 20-inch wheel option, and the exterior color option comes to an as-tested price of $48,195.
FOLLOW US TODAY: